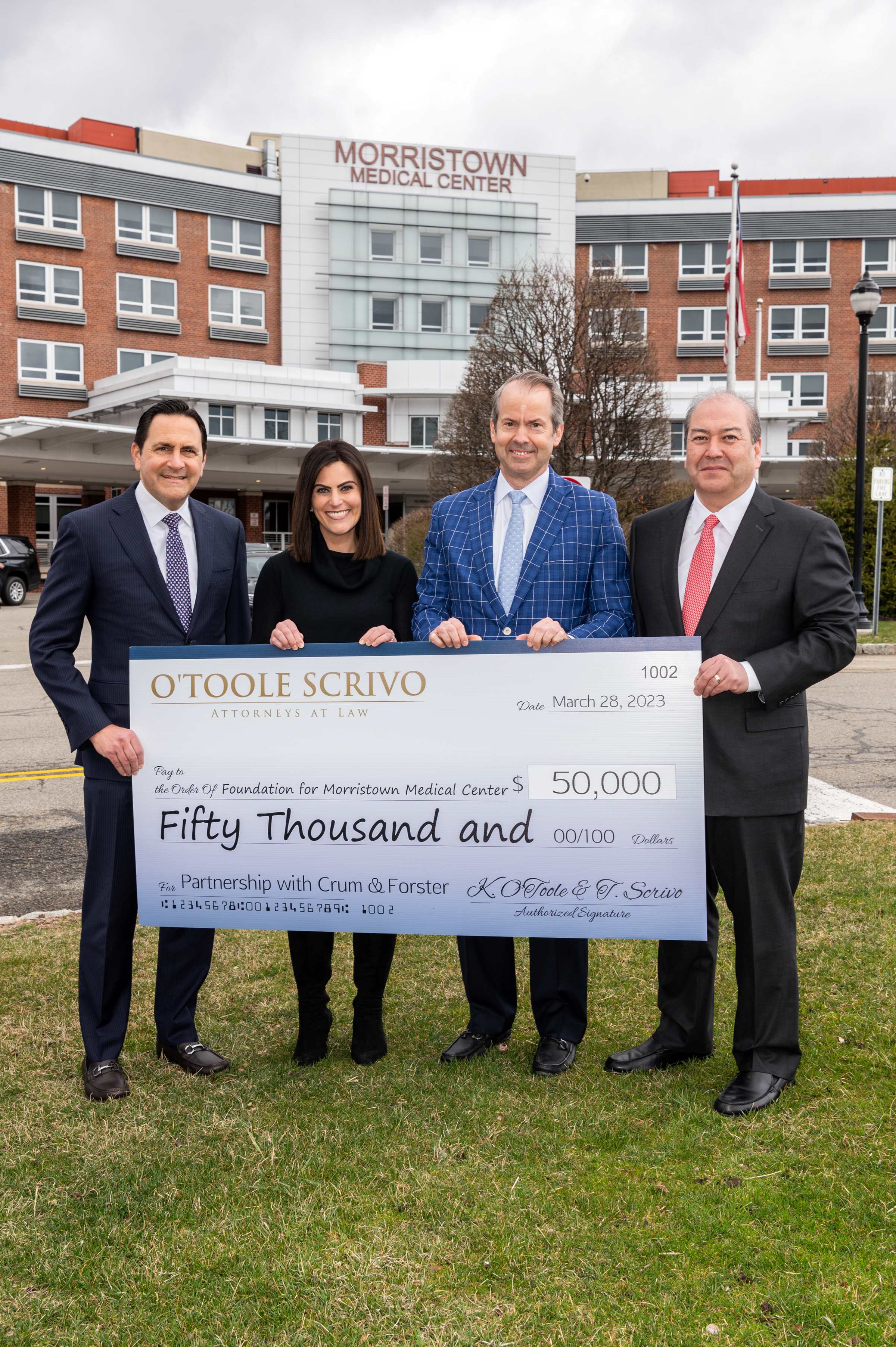 O'Toole Scrivo has partnered with Morristown Medical Center and Crum & Forster's CEO, Marc Adee, Vice Chairman of the Foundation for Morristown Medical Centers Board of Trustees, to donate $50,000 to support staffing at a Behavioral Health Assessment Center under development at Morristown Medical Center. When complete, the Assessment Center will provide valuable services for children, adolescents, and adults who need short-term outpatient psychiatric treatment but do not require the services of an emergency department.
Adee expressed his appreciation for the partnership and the support of OS in improving the quality of care for patients with behavioral health issues. "The new Behavioral Health Assessment Center will significantly impact the lives of patients in our community struggling with behavioral health issues. By coming together and working towards a common goal, we can make a meaningful difference in the lives of those who need it most," Adee said.
Elana Monchar, MD, chair of the Department of Psychiatry for Morristown Medical Center, also expressed her appreciation for the partnership and the donation, noting that "providing the community with faster and better access to mental health support is paramount."
OS Co-Managing Partner Kevin O'Toole stated, "As a law firm that is deeply committed to our community, we are proud to partner with Morristown Medical Center and Crum & Forster in their efforts to improve the health and well-being of those in need. This new Center is groundbreaking." Co-Managing Partner Thomas Scrivo said, "We understand the importance of addressing the root causes of social issues, including mental health. We are confident our donation will help provide essential services for patients with behavioral health issues. We look forward to continuing our partnership with Morristown Medical Center and Crum & Forster to make a meaningful impact in our community."
The donation will support the hire of a psychiatric advanced nurse practitioner and psychiatrist, who will play pivotal roles in expanding the Center's services and providing clinical oversight. Expected to open this spring, the Center will provide a much-needed resource and service for the growing behavioral needs of the community Morristown Medical Center serves.
About O'Toole Scrivo, LLC
We are a carefully crafted mid-sized law firm of recognized subject matter experts practicing primarily in New York and New Jersey. We combine large-firm expertise with small-firm attention to client needs, representing businesses, insurance companies, and government entities. We are committed to delivering creative and timely results for the most high-profile and complex matters.